SunGuard Canopy
00000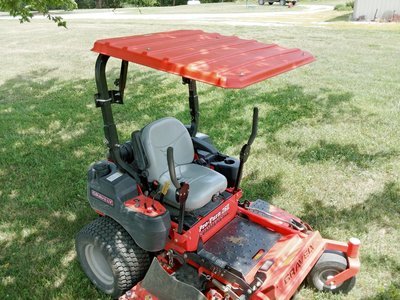 SunGuard Retail Catalog
Price :
307.95
USD
In stock
The SunGuard universal tractor + mower canopy is designed to safely and firmly attach to all 2-post rollbars (sometimes called "R.O.P.S." - Roll Over Protection Systems).
NOTE: $55 shipping is only available within the continental United States.
Our unique mounting system allows the owner to adjust the canopy up or down for desired head room. Measuring 37" x 45", each tractor canopy shell is made from tough 5/32" thick modified ABS plastic and molded into a rigid shape. Supporting mounting struts are heavy 14 gage steel tubing and brackets are hot rolled steel. Weight is 36 pounds.
WE OFFER THE MOST FLEXIBLE MOUNTING SYSTEM ON THE MARKET. It's so good, many of our competitors order from us!
Quick Off/On Strut System (45)
Personalize it! (add text below) (5)
Up to 42.5" Width (0)
Over 42.5" up to 46.5" (0)
Up to 2.25" x 4" (0)
Over 2.25" x 4" or Round Tube - explain below (0)